Farm Bureau Names Wortham Outstanding Ag Teacher
Russellville kindergarten teacher uses gardening, reading to highlight ag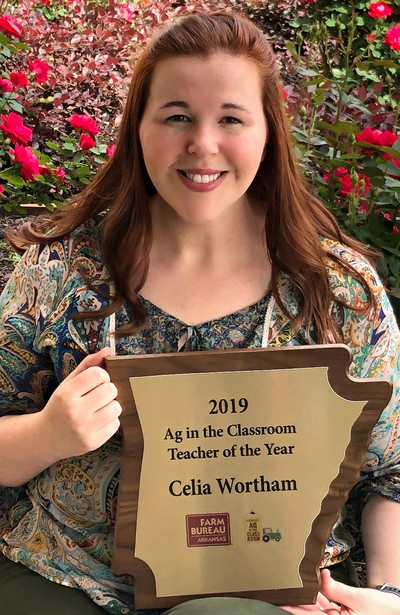 Celia Wortham, a kindergarten teacher at Dwight Elementary in Russellville, is Arkansas Farm Bureau's 2019 Ag in the Classroom Outstanding Teacher. Wortham received the award during a recent surprise announcement at the school.
Farm Bureau established the award in 2006 to recognize teachers who have exemplary programs that integrate agricultural concepts into their teaching. Wortham worked agricultural concepts into all of her year-long curriculum which included taking her students to the school's garden to learn about how plants are grown and cared for, and setting up a small "container garden" for her class to grow unusual vegetables like lemon cucumber, black corn and purple carrots. In addition, she taught lessons on Christmas trees and received a grant to begin a reading program at her school that will feature books on animals.
"I was raised on a farm," said Wortham, who came to Arkansas from Louisiana in 2017. "My childhood was spent in the dirt, in the woods, or riding a tractor. I wanted memories like these for my students.
She says that she is "still learning what Arkansas agriculture looks like," but she believes attending the National Ag in the Classroom Conference in Little Rock this June will help her in her efforts to introduce her students to the importance of farming and ranching.
"You have to get creative to teach agriculture to kindergarteners and that's what Celia has done," said Arkansas Farm Bureau Senior Education Coordinator Matt Jackson. "She's found a variety of ways to highlight the importance and role of agriculture in everyday life, from hands-on methods to reading."
Wortham is a graduate of University of Louisiana – Monroe, where she earned a bachelor of arts in Spanish, a master of arts in elementary education and master of education degree in educational leadership. She previously taught first and second grade in Louisiana, where she was honored as Tangipahoa Parish Schools Teacher of the Year in 2018. She was recently awarded a $5,000 grant for a One School, One Book reading program at Dwight Elementary. With the Outstanding Teacher honor, she receives an expense-paid trip to represent Arkansas at the National Ag in the Classroom Conference in Little Rock.
Arkansas Farm Bureau is a nonprofit, private advocacy organization of more than 190,000 families throughout the state working to improve farm and rural life.
For more information, contact:
Rob Anderson
(501) 228-1640
rob.anderson@arfb.com