Arkansas Dairy Foods Contest winners named
LITTLE ROCK — Christen Talley of El Dorado (Union Co.) and Emma Williams of Searcy (White Co.) were winners at the 59th annual Arkansas Dairy Foods Contest held June 1 at the state fairgrounds in Little Rock.
Christen Talley, 16, daughter of Dee Shana Talley and Michael Galbraith, took first in the Main Dish competition with her "Cajun Corn & Crab Bisque." Emma Williams, 17, daughter of Bill and Ruth Williams, took first in the Party Idea competition with "Paradise Coconut Cream Pie." Winners received $150.

Judges placed contestants based on recipe, use of dairy products, originality, availability of ingredients and serving technique. Arkansas Farm Bureau, Southwest Dairy Museum and Arkansas Dairy Cooperative Association sponsored the event.
In the Main Dish competition, Sue York of Roe (Monroe Co.) took second with "Sausage Enchiladas." Adam Richter of Harrison (Boone Co.) took third with "Farmer's Market Lasagna." Caitlyn King of Mountain Home (Baxter Co.) took fourth with "Catie's Cheesy Chicken & Ham Pasta."

In the Party Ideas competition, Natalie Lester of Williford (Sharp Co.) took second with "Strawberry Pecan Pretzel Parfaits." Aggie Richter of Harrison (Boone Co.) took third with "Bossy's Buttermilk Lemoo-Cakes." Garrett Lance of Nashville (Howard Co.) took fourth with "Cheesy Muffins."

The winning recipes are:

CAJUN CORN AND CRAB BISQUE

Ingredients:
4 tablespoons unsalted butter
4 tablespoons flour
1 medium onion, diced small
1 stalk celery, diced small
½ cup carrots, diced or grated
2 cloves garlic, diced
2 cans chicken stock
2 bay leaves
2 tablespoons Cajun seasoning
1 ½ cups whole kernel corn (frozen)
2 cups heavy cream
2 cups milk
6 green onions, diced (divided in half)
8 oz. cream cheese
2 pounds lump crabmeat
1 teaspoon liquid crab boil to taste
Salt and pepper to taste.

Directions:
In a large pot, melt butter. Add flour and brown lightly. Add onion, celery and carrots. Cook until vegetables are soft. Stir in garlic at the very end to keep it from overcooking. When vegetables are soft, stir in chicken stock, bay leaves, Cajun seasoning and corn. Bring to a boil and boil for 15 minutes. Remove the bay leaves. Reduce the heat and slowly stir in heavy cream, milk and cream cheese. Add in half the green onions (retain half for garnish) and allow to return to almost boiling. Once heated through and cream cheese is completely melted, combine into the bisque. Add liquid crab boil, salt and pepper to taste. Fold in crabmeat (if you stir too much, the crab falls apart). Serve immediately garnished with diced green onion.

PARADISE COCONUT CREAM PIE
Ingredients:
Crust:
20 pecan shortbread cookies (crushed)
1 cup flaked coconut
1/3 cup butter (melted)
Filling: 1 ½ cups milk
1 small package vanilla instant pudding
1 cup flaked coconut
½ cup sour cream
1 large banana (sliced)

Topping:
1 8 oz. can crushed pineapple (drained)
1 ½ cups whipping cream
¼ cup granulated sugar
½ cup toasted flaked coconut

Directions:
Crust: Mix cookie crumbs, 1 cup coconut and melted butter in a small mixing bowl and blend well. Press into a pie plate to make crust. Bake at 10 minutes at 325 degrees or until lightly browned.

Filling: In a large mixing bowl, combine milk and vanilla pudding and whisk until stiffened. Fold in 1 cup coconut and sour cream until blended. Set aside. Arrange sliced bananas on the bottom of cooled crust. Cover with pudding mixture; Set aside.

Topping: Combine whipping cream in a bowl and beat until stiff. Add sugar and continue to beat until mixed. Fold drained pineapple and prepared whipping cream together, spoon over the pudding mixture of the pie and sprinkle with toasted coconut.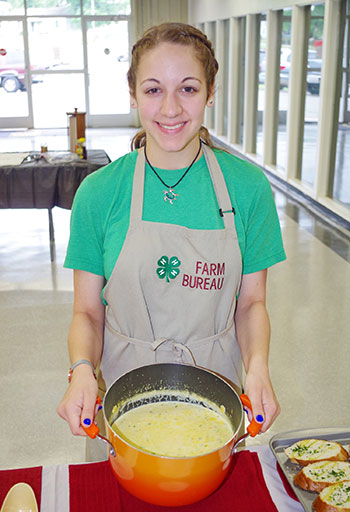 Christen Talley
---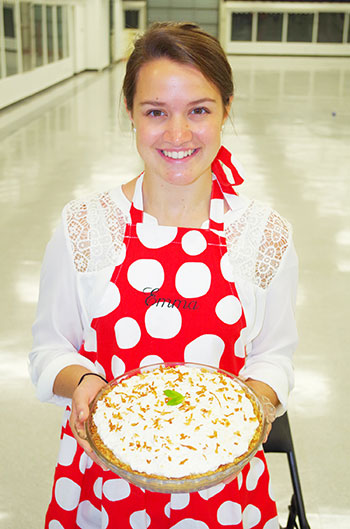 Emma Williams
Arkansas Farm Bureau is a nonprofit, private advocacy organization of more than 190,000 families throughout the state working to improve farm and rural life.