Classroom Materials

Fun and informative materials correlated to Common Core and Next Generation Science Standards
Click here to request materials.

Download our order form.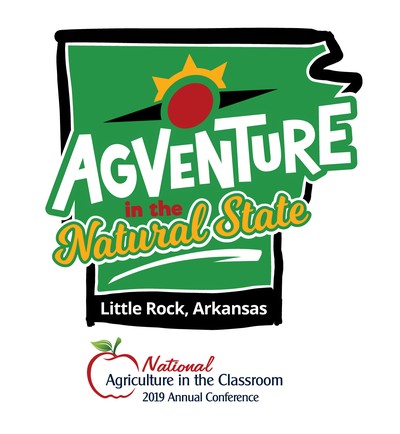 2019 National Agriculture in the Classroom Conference
The 2019 National Agriculture in the Classroom Conference: AgVenture in the Natural State will be held June 18-21 in Little Rock at the Marriott Hotel.
Register for the conference here.
Attention Arkansas teachers! We will be offering a limited number of scholarships to attend the conference. Some scholarships will cover just registration, and some scholarships will cover registration and lodging.
Applications must be submitted by March 15, 2019. Download an application here.
Awards and Scholarships
AITC Outstanding Teacher
Do you use Agriculture in your classroom? Checkout this award that honors your efforts. Click here to learn more.
White-Reinhardt Scholarship
The American Farm Bureau's Ag Foundation sponsors the White-Reinhardt Teacher Scholarships through the White-Reinhardt Fund for Education in cooperation with the American Farm Bureau Women's Leadership Committee.
The National Ag in the Classroom Conference Educator Scholarship program is to provide travel expense funds to educators employed by a school system to attend the national conference and then use the information gained to expand their outreach to students regarding food, fiber and fuel. Educators employed by a school system and working in grades K-12 who have demonstrated involvement in agricultural literacy program are eligible to apply.
Learn more about the White-Reinhardt Scholarship and find out how to apply.
Workshops
Farm to Table STEM Workshop
The Arkansas Soybean Promotion Board partners with Arkansas Ag in the Classroom to present this STEM focused workshop using agriculture. Learn how the science concepts you teach are used every day in agriculture.
Information coming soon!


Future Scientist Workshops

Information coming soon!