Sohl awarded Farm Bureau Vines Scholarship
Award honors memory of Arkansas farm broadcasting pioneer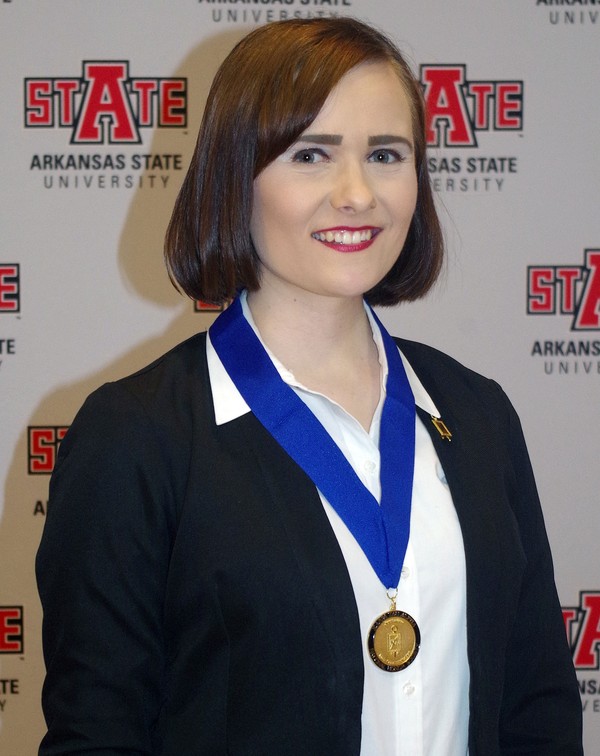 LITTLE ROCK — Heidi Sohl of Avilla (Saline County), a senior Creative Media Production major at Arkansas State University, is the 2017 recipient of Arkansas Farm Bureau's Marvin Vines Memorial Scholarship. The award was announced at the College of Media and Communications Student Honors Reception April 11.
Sohl, 22, is the daughter of Steve and Kim Sohl. She expects to graduate in December, and has a 3.93 overall grade point average. She has named the Production-Traffic Director for Red Wolf Radio this fall.
Arkansas Farm Bureau endows the scholarship, which honors the memory of Marvin Vines, farm director for more than 25 years at Little Rock radio station KAAY. Since 1980, it's been awarded annually to a broadcast major at ASU.
In addition to her experience in radio, Sohl is minoring in theatre and has performed in several ASU stage productions as both a cast and crew member. In 2016 she worked at Walt Disney World's Animal Kingdom serving as a tour guide through the African Kilimanjaro Safari wilderness attraction, which allowed her to expand her storytelling abilities and interpersonal skills.
"I am very grateful for this scholarship as it will allow me to devote more time to developing my craft as a multimedia storyteller," Sohl said. "I wish to learn everything I can as a Creative Media Production major. I look forward to pursuing job opportunities in radio. It is the medium I am most passionate about."
Arkansas Farm Bureau is a nonprofit, private advocacy organization of more than 190,000 families throughout the state working to improve farm and rural life.
—30—
Steve Eddington
(501) 228-1383
steve.eddington@arfb.com
or
Ken Moore
(501) 228-1512
ken.moore@arfb.com