2017 County Farm Families of the Year Announced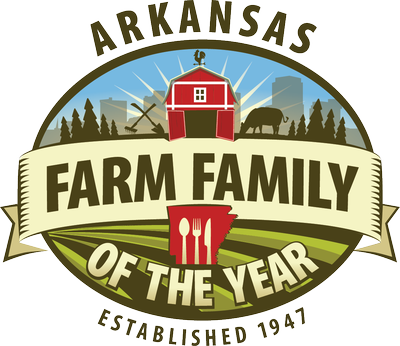 LITTLE ROCK – County winners for the 70th annual Arkansas Farm Family of the Year Program have been selected. The county winners will be visited by a set of judges to determine the eight district winners, to be announced June 19. They will be visited again by a different set of judges in July to determine a state winner, which will be announced Dec. 7 at the Farm Family of the Year luncheon in North Little Rock.
The county winners are:

East Central District
Lee – Bill Gerrard III, Marianna
Lonoke – Robby & Stephanie Bevis, Scott
Monroe – S & A Farms: Larry & April Johnson II, Holly Grove
Prairie – David & Cindy Strohl, DeValls Bluff
Pulaski – Brandon, Jessica & Julie Chapman, Scott
St. Francis – Bill Dooley, Forrest City
White – Larry & Belinda Shook, McRae
Woodruff – Perry Galloway, Gregory
North Central District
Baxter – Bernie & Mary Alice Wiesner, Mountain Home
Cleburne – Billy & Susan Brewster, Wilburn
Fulton – Brian & Lee Ann Davis, Mammoth Spring
Independence – Chris Tharp, Floral
Izard – Miller Cattle Ranch: Doug & Tammy Miller, Sage
Marion – Brent & Glenda Rozeboom, Valley Springs
Searcy – James, Mary, Michael & Lesley Horton, Marshall
Sharp – Colton & Sara Asberry, Sidney
Stone – Larry Musick, Timbo
Van Buren – Matt McMahan, Damascus
Northeast District
Clay – Darrel & Ellen Dalton, Piggott
Craighead – Hook Farms: Mike, Karen, Casey & Emilee Hooks, Lake City
Crittenden – Jamey Sharp, Crawfordsville
Cross – Brandon Stephens, Cherry Valley
Greene – Chad Agee, Marmaduke
Jackson – Andrew Rowlett Farms, Tuckerman
Lawrence – Mitchell and Jeff Worlow, Sedgwick
Mississippi – Steve & Janet Metheny; Ashley & Justin Smith; Austin & Chelsea Metheny, Osceola
Poinsett – James E. Wray, Trumann
Randolph – Shawn Seagraves, Pocahontas
Northwest District
Benton – Garrett Gittlein, Gravette
Boone – Matt & Lisa Widner, Harrison
Carroll – James & Tonja Smith, Berryville
Crawford – Tom & Sue Moore, Rudy
Franklin – Johnny & Bridget Pruitt, Ozark
Johnson – Jimmy Dickerson, Clarksville
Madison – Mike & Jessica Ingram, Rogers
Newton – TBA
Sebastian – Jared & Michelle Pass, Hartford
Washington – Allen & Cindy Moore, Lincoln
Southeast District
Arkansas, N. – Cedar Corner Farm: Jason Smith & Chris Dickson, Ulm
Arkansas, S. – James Phillips, Crocketts Bluff
Ashley – Old Milo Tree Farms & Pumpkin Patch: Brad & Lonni Davis, Hamburg
Desha – Danny & Theta Wilson, McGehee
Drew – Mike & Shelly McGregor, Monticello
Jefferson – Conyer Farms: Lawrence "Wink" Conyer, Pine Bluff
Lincoln – Jon Kelly White, Star City
Phillips – Timothy Jones, West Helena
Southwest District
Bradley – Jim & Linda Davis, Prattsville
Calhoun – Jimmy & Laura Hammack, Hampton
Columbia – James Dixon, Magnolia
Hempstead – Keaster Farms: Clovy Keaster, Ozan
Lafayette – Jeff & Shelby Lamkin, Buckner
Little River – Dale Sansom, Ashdown
Miller – Rocking CK Farms: Chase & Krystal Groves, Garland City
Nevada – Greg & Marcel Wilson, Prescott
Union – Tom & Mary Loftin, El Dorado
Western District
Conway – Honeycutt Farms: Timbo & Minnie Honeycutt, Clinton
Faulkner – Robert & Tara Stainton, Vilonia
Montgomery – Jason Cranford, Sims
Perry – Butch & Kay Hoyt, Houston
Polk – Luke & Deedee Alston, Mena
Pope – Terry & Gail Small, Hector
Yell – Michael & Judy Dixon, Ola
West Central District
Clark – Lynn & Debbie Pye, Arkadelphia
Cleveland – James Farmer, Rison
Dallas – Gene & Wilda Sue Brazeale, Sparkman
Garland – Donnie Moore, Hot Springs
Grant – Cody & Meg Harrington, Sheridan
Hot Spring – Carl Shultz, Malvern
Howard – Nathan & Nicole Hill, Newhope
Pike – Chad & Kay Stewart, Kirby
Sevier – Will & Sidney Bailey, DeQueen
"Each year, the Farm Family of the Year program identifies and recognizes great farmers and ranchers across our state," said Randy Veach, president, Arkansas Farm Bureau. "These families literally power our state's largest economic engine, agriculture.
"Congratulations to these great farm families. We salute their success, stewardship, and commitment to Arkansas agriculture."
Since 1947, the Arkansas Farm Family of the Year Program has served as a vehicle to recognized outstanding farm families throughout the state. The objectives of the Farm Family of the Year program:
To give recognition and encouragement to farm families who are doing an outstanding job on their farm and in their community.
To gain recognition of the importance of agriculture in the community and state.
To disseminate information on improved farm practices and management.
"The Arkansas Farm Family of the Year program is one of the oldest of its kind in the nation. The success and longevity of this program has only been possible because of our sponsors and partners," said Mollie Dykes, coordinator, Arkansas Farm Family of the Year Program. "We're honored to recognize these hard working, passionate, and resilient families who work tirelessly to provide our growing world with food, fiber, and shelter."
The Farm Family of the Year program begins each year with the selection of top farm families in each county and culminates in December with the selection of the state Farm Family of the Year who will then go on to represent Arkansas at the Swisher Sweets/Sunbelt Expo Southeastern Farmer of the Year where Arkansas has had two winners, Brian and Nan Kirksey of Clark County in 2008 and Wildy Family Farms of Mississippi County in 2016. All winners are judged on their farm production, efficiency, management, family life and rural/community leadership.
Sponsors of the Farm Family of the Year program are Arkansas Farm Bureau, the Electric Cooperatives of Arkansas, Armor Seed, and the three Farm Credit agencies that serve Arkansas: AgHeritage Farm Credit Services, Farm Credit of Western Arkansas and Midsouth Farm Credit. Additionally, support for the program is provided by the Arkansas Agriculture Department, Arkansas Department of Career Education, Arkansas Press Association, University of Arkansas Division of Agriculture and the USDA's Farm Service Agency, Natural Resources Conservation Service and Rural Development.
Arkansas Farm Bureau is a nonprofit, private advocacy organization of more than 190,000 families throughout the state working to improve farm and rural life.
—30—
Steve Eddington
(501) 228-1383
steve.eddington@arfb.com
or
Mollie Dykes
(501) 228-1394
mollie.dykes@arfb.com