Fort Smith's Jones Named Outstanding Teacher
Fifth-grade instructor introduces elementary students to ag concepts

LITTLE ROCK — Brandy Jones, a fifth-grade social studies and writing teacher at Woods Elementary in Fort Smith, is Arkansas Farm Bureau's 2017 Ag in the Classroom Outstanding Teacher. Jones was recognized during a special ceremony at the school April 28.
Farm Bureau established the award in 2006 to recognize teachers who have exemplary programs which integrate agricultural concepts into their curricula.
Jones earned a bachelor's of science in Early Childhood Education from the University of Arkansas in 2009 and a master's of education in Educational Leadership from Arkansas Tech University in 2013. She previously taught second grade and fourth grade, also at Woods Elementary. She has completed the Arkansas Teacher Leadership Academy Institute, received National Board Certification as a Middle Childhood Generalist, and is a member of the 2017 Leadership Fort Smith class.
Jones integrates agriculture into both writing and social studies throughout the school year. To kick off the main unit of study, Matt Jackson of Arkansas Farm Bureau visits the class to teach a lesson on the history and importance of Arkansas agriculture. After other research using Farm Bureau materials, students are then challenged to build their own virtual farms.
"The students select one of the state's commodities to produce on their farm," Jones said. "They research the history of the commodity in our state, what it takes to produce that commodity, and the cost. Students have to write on that commodity and then develop presentations and small books to describe the farm to their classmates."
The book developed by the student explains how they would run their farm with each page focusing on a different aspect farmers must consider. These considerations include location, farm equipment, production process, daily schedule, distributors, business goals, and more. Additionally, students have access to a 3D printer awarded to the school through a technology grant where they can print a diagram of their farm.
Jones wants her students to not just memorize facts and figures, but to also apply that knowledge to real-world situations, which is why she came up with the farm development activity. Students are challenged to use higher-level thinking skills such as questioning, analyzing and evaluating as they develop their farms.
"The unit focuses on student understanding and addresses the various learning styles in the class by providing a variety of learning structures," Jones said. "It's proven that a student's recall of information is higher when they are able to apply new learning to their lives. By having students create a farm, they were encouraged to apply the knowledge gained from discussions and research in order to play the role of a farmer."
Having grown up in Arkansas, Jones understands the rich agricultural history of the state and understands the important role it plays in everyone's lives. She hopes her students will leave her class with a newfound passion for the industry.
"We're always going to need agriculture and I want to instill a love for agriculture in my students. I want them to explore how they can fit into the Arkansas agriculture industry one day. My hope is that some of these students will decide to pursue a career in agriculture one day to continue to enrich Arkansas' agricultural landscape."
Jones receives an expense-paid trip to Kansas City to represent Arkansas June 20-23 at the National Ag in the Classroom Conference.
Learn more about Arkansas Ag in the Classroom here.
Arkansas Farm Bureau is a nonprofit, private advocacy organization of more than 190,000 families throughout the state working to improve farm and rural life.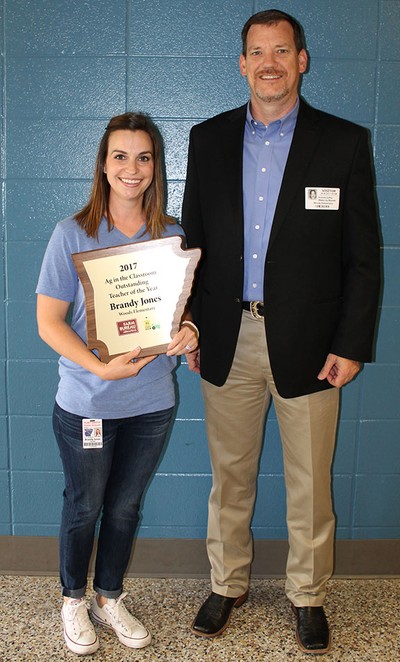 Andy Guffey, Director of Education and Outreach at Arkansas
Farm Bureau, (right) congratulates Brandy Jones on being the
2017 Arkansas Ag in the Classroom Outstanding Teaching of
the Year. Jones, a fifth-grade teacher at Woods Elementary
in Fort Smith, wins a $1,000 stipend and a scholarship to
attend the National Agriculture in the Classroom Conference
this summer.
For more information, contact:

Steve Eddington
(501) 228-1383
steve.eddington@arfb.com
or
Mollie Dykes
(501) 228-1394
mollie.dykes@arfb.com