Arkansas Farm Bureau Foundation Donates $50,000 to Red Cross
p>
The Arkansas Farm Bureau announced Wednesday a donation of $50,000 to the American Red Cross-Greater Arkansas Chapter, to be used for flood relief efforts throughout Arkansas.
Record flood levels have been reached along the Arkansas River, impacting thousands of acres of farmland, buildings, homes and infrastructure.
"This flood has affected so many people up and down the river, from Fort Smith to Pendleton," said Warren Carter, executive vice president of Arkansas Farm Bureau. "There are 16 different counties that were impacted by the Arkansas River flooding.
"This is the single largest contribution our foundation has made to any disaster relief effort done so far. And we know The Red Cross is going to put it to good use. They are already doing good things to help people, particularly those in rural areas that don't have a lot of options for support."
Estimates of damages from the flooding have not been calculated, because water remains above flood stage in many areas.
"Flooding is not discriminating, it hits everyone," said Lori Arnold, executive director of the American Red Cross-Greater Arkansas Chapter. "What we are finding, especially in rural communities, is the impact of the flooding is huge.
"I have seen a lot of disasters in different parts of the country, but when you see it in your own hometown, it has a different type of effect on you. The Red Cross can't do the work we do without the help of others. We are certainly appreciation of those like the Farm Bureau Foundation who have stepped in to help."
The donation was made through the Arkansas Farm Bureau Foundation, a 501(c)(3) nonprofit created in 2018. The mission of the Arkansas Farm Bureau Foundation is to further understanding of agricultural and rural issues, and to support the agriculture and rural community through financial support for education, research, litigation and disaster relief.
Arkansas Farm Bureau is a nonprofit, private advocacy organization of more than 190,000 families throughout the state working to improve farm and rural life.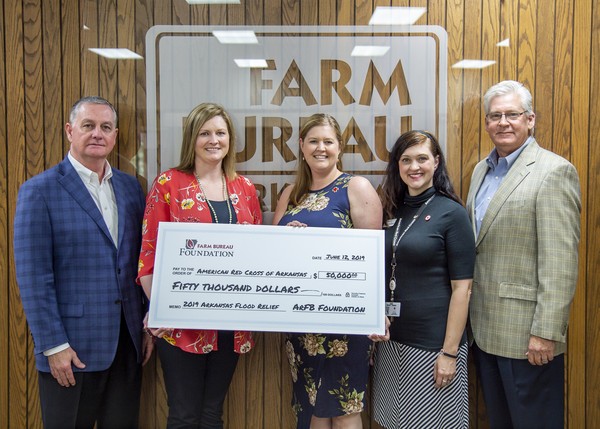 (L to R) Arkansas Farm Bureau Executive Vice President Warren Carter, ArFB Education and Foundation Coordinator Amanda Williams,
American Red Cross-Greater Arkansas Chapter Regional Philanthropy Officer Llahoma Jackson and Executive Director Lori Arnold and
ArFB Senior Vice President of Organization and Administration Chuck Tucker.
For more information, contact:
Steve Eddington
(501) 228-1383
steve.eddington@arfb.com
or
Rob Anderson
(501) 228-1640
rob.anderson@arfb.com