Burkham Promoted at Arkansas Farm Bureau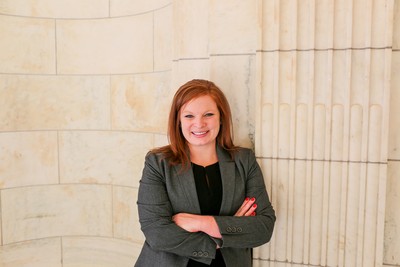 Jessica Clowser Burkham has been promoted to director of policy development and legislative research for Arkansas Farm Bureau. She previously served as the director of commodity activities and economics for aquaculture, forestry and specialty crops at Arkansas Farm Bureau.
In her new role, Burkham will direct the organization's policy development program and she will be responsible for researching, compiling and maintaining information and materials relating to Farm Bureau's legislative and regulatory activities at both the state and national levels.
In her previous role, Burkham addressed legislative, regulatory and economic affairs important to Farm Bureau members, helped outline topics for policy development, managed administrative functions for commodity check-off boards and assisted producers enrolling for Wildfire and Hurricane Indemnity Program Plus (WHIP+) funds.
Before joining Farm Bureau, Burkham spent six years in Washington, D.C., working as a legislative assistant for U.S. Sen. Deb Fischer of Nebraska, where she advised on legislative issues for the Senate Agriculture, Nutrition and Forestry Committee and the Senate Environment and Public Works Committee. She also managed the senator's legislative priorities in agriculture, energy and environment, water infrastructure, biofuels and trade policies.
Burkham also worked to negotiate and advance priorities for the 2014 and 2018 Farm Bills and facilitated successful discussion between the U.S. Department of Agriculture and Nebraska Department of Agriculture on behalf of Fischer to open the Israeli market to Nebraska beef for the first time since 2003. Before working for Fischer, Burkham served as a legislative aide for U.S. Senator Mike Johanns of Nebraska, in his D.C. office.
"I am excited to join Arkansas Farm Bureau's public affairs and government relations team," said Burkham. "I look forward to coordinating Farm Bureau's grassroots policy development program. Arkansas' farmers and ranchers are the unsung heroes of the American dinner table and I welcome the opportunity to contribute and advocate on their behalf."
Burkham holds an undergraduate degree in animal science from the University of Nebraska and two graduate degrees, one in business administration from Indiana University and the other in agricultural economics from Purdue University.
"I'm pleased to have Jessica join our lobbying team. She has a wealth of knowledge and experience from her time spent in our nation's capital, and an enthusiastic desire to demonstrate her skills in our advocacy work," said Stanley Hill, vice president of public affairs and government relations.
Arkansas Farm Bureau is a private advocacy organization of more than 192,000 families throughout the state working to improve farm and rural life.
For more information, contact:
Steve Eddington
(501) 228-1383
steve.eddington@arfb.com
or
Rob Anderson
(501) 228-1640
rob.anderson@arfb.com