Bio & Photo: Gary Don Sebree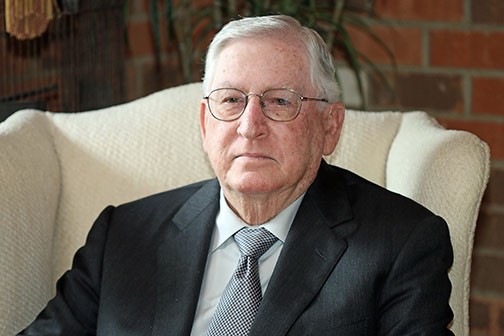 Gary Don Sebree
Stuttgart
A third-generation rice farmer, Gary Sebree has spent his life advancing the rice industry in Arkansas and U.S. Sebree farms approximately 2,000 acres of rice and soybeans near Stuttgart, the heart of the Grand Prairie. He consistently produces some of the highest yields and quality rice received by the Producers Rice Mill. Because of his skill and demonstrated leadership abilities, Sebree was elected by his peers to serve on the Producers Rice Mill board of directors in 1971 at the age of 29. He would go on to spend the next 43 years on the board, the final 24 of those as chairman, from 1990 until 2014.
Under his leadership the company and Arkansas rice industry experienced a period of phenomenal growth. A farmer-owned cooperative, Producers grew from 956 members in 1971, when Sebree first joined the board, to a high of 2,637 members in 2013. During that span, member receipts increased more than tenfold, from 6.2 million bushels in 1971 to 65.5 million bushels in 2011, while sales grew from $17.5 million 46 years ago, to a high of $568.5 million in 2013.
When Sebree assumed his leadership role in 1971, Arkansas' rice acreage totaled 441,000 or 24 percent of the U.S. crop. Today, in part because of his leadership, acreage in the state has grown to around 1.5 million acres. The same year Sebree retired from the Producers' board of directors in 2014, for the first time Arkansas produced more than 50 percent of the entire U.S. crop, a distinction it still holds.
Sebree was awarded the 2016 Rice Lifetime Achievement Award from USA Rice. He was on the first Arkansas Rice Research and Promotion Board (1979-86), chairman of the USA Rice Producers Group (2000-2002) and chairman of the USA Rice Federation (2002-2004). He also was named Arkansas Rice Farmer of the Year in 1998. Sebree attended Hendrix College in 1959-60, majoring in chemistry/pre-med, but had to leave due to tuberculosis, leading to his life's work on the farm.