Bio & Photo: Mark C. Simmons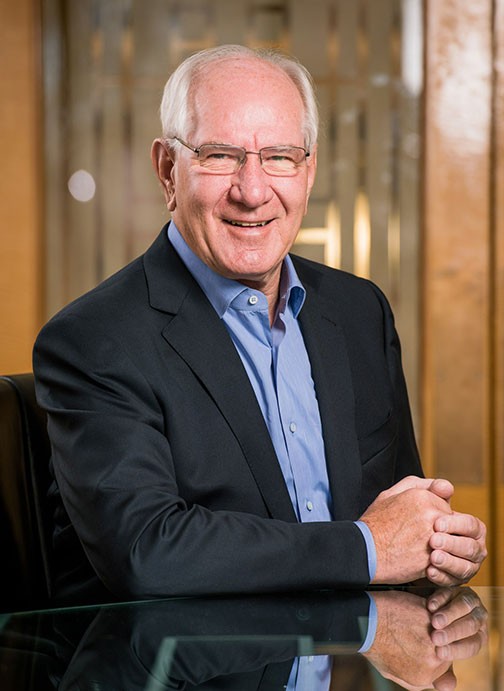 Mark C. Simmons
Siloam Springs
Under Mark Simmons' leadership and supervision his family company, Simmons Foods, has grown into one of the nation's largest privately held broiler-processing companies and the largest private-label wet pet food manufacturer in North America. The enterprise has grown from a single plant with roughly $20 million in sales and 350 employees in 1974 to approximately $1.4 billion in sales and nearly 6,000 employees in more than 20 facilities across North America.
Mark Simmons has been chairman of the board for Simmons Foods since 1987. He first joined the family business as vice president in 1968 after graduating from the University of Arkansas. He was named president in 1974 at the age of 26, following the death of his father, M.H. "Bill" Simmons, president and co-founder of Simmons Foods.
He is passionate about supporting the next generation and helping them realize a bright future. In fact, Mark manages the M.H. "Bill" Simmons Scholarship Fund in memory of his father which benefits furthering the education of the children of company employees and growers.
Among his numerous accomplishments, Mark was a founding member of the Northwest Arkansas Council, has served on the board of trustees at John Brown University for 30 years, and is a board member of the Walton Family Foundation. He was named Man of the Year in 1990 by the Arkansas Poultry Federation, the 2009 regional Entrepreneur of the Year in the agri-business category by Ernst & Young, received the Golden Paddle Award from the Illinois River Watershed Partnership, and was inducted in 2013 into the Arkansas Business Hall of Fame.
As owner and chairman of the family company Mark Simmons believes he must succeed because his employees' careers and livelihoods are entrusted to a vision for which he has been charged. It's his goal to transition the business to the third generation of family leadership to his son Todd, who is Chief Operating Officer, and his daughter Sarah, who serves on the company's Advisory Board.