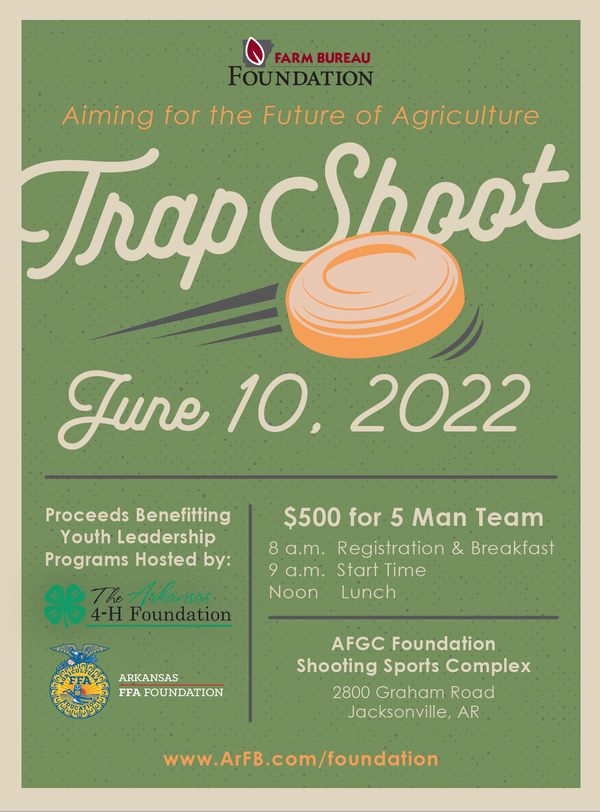 The Arkansas Farm Bureau Foundation (ArFB Foundation) will be hosting its 4th Annual Trap Shoot on Friday, June 10, 2022, at the Arkansas Game & Fish Foundation Shooting Sports Complex in Jacksonville, Arkansas.
This year the ArFB Foundation is Aiming for the Future of Agriculture by teaming up with the Arkansas 4-H Foundation and the Arkansas FFA Foundation. Supporting youth in agriculture is at the heart of the ArFB Foundation's mission. Investing in the future of Arkansas agriculture is a shared vision among our organizations. Half of the net proceeds from this year's shoot will directly benefit both the Arkansas 4-H and Arkansas FFA Foundations, while continuing to support the goals of the ArFB Foundation.
There are several options for you or your organization to show support. One great way is through the sponsorship of a local youth shooting team or a team of your own. Click on the Sponsorship Benefits link below, for additional sponsorship opportunities,
Sponsorship Benefits & Packages
You can download a team registration form or a sponsorship signup form to print and submit or a printable promotional flyer.